COMING SOON
ROK-ON™ continues to press forward with innovative technology.  Building codes for totally non-combustible materials in external walls have already been established in many parts of the world and will become common place as fires continue to become larger and more pervasive. Requirements for better energy performance also continue to evolve in an effort to cut harmful emissions which contribute to global warming.
The company has been diligently working on products to address these issues and has developed a totally non-combustible mineral based core to compete with mineral wool for external insulation, which can be installed at a fraction of the cost and time compared to a traditional code compliant assembly.
After nearly a year's wait due to the COVID-19 pandemic, our equipment has finally arrived at our new facility outside Reno, Nevada.  We are excited to now bring this product to market! Look for our updates soon!
These will be available Q3 2021.  Stay tuned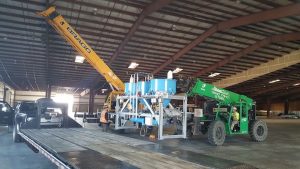 Offices:
Irving, Texas USA Silver Springs, Nevada USA Coronado, California USA Edmonton, Alberta Canada Milwaukee, Wisconsin, USA Ensenada, Baja California, Mexico